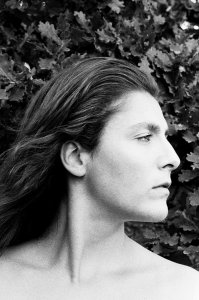 Bibi Joan is an artist from Amsterdam (NL) who studies gender roles, sexuality and power relations. The body plays a central role in her work.
In her projects, Bibi Joan is interested in challenging traditional ideas and stereotypes. Her first project was a response to the underrepresented female gaze on the male nude.
She is currently working on several projects from two larger series. The 'Masculinity Lab' in which she explores the female gaze on masculinity and 'The Naked Dialogues' in which she investigates how men and women relate to each other, what roles they take on and how this influences the power dynamics. In these projects she collaborates with male artists.
Her personal experience is the starting point from which she connects with larger social and political structures. She works with a combination of analog photography, video, reflection and dialogue. With this approach she tries to create a place for co-creation and exchange from an equal basis.
Feel free to be human.